Powered Paragliding Flight Packages – Everything you need to fly!
This package is a great flight kit with just what you need to get started in powered paragliding. All you need to add is a helmet and your training!
These packages are based on body weight. If you are a heavier pilot, you may need to choose to a more powerful motor. We have options to upgrade in each package to accomodate pilots up to 300+ pounds! Other details may be determined by looking at the elevation of your typical flying location, type of flying you would like to explore, and your ability.
The paraglider wing may also be upgraded to another model for pilot's preference, depending on many factors. Many of these wings work equally well for paramotoring and free flight paragliding, so you can consider using your motor to Power to the Thermals, fly using ridge lift or simply kill the motor after climbing high and just enjoy gliding back down without power.
The Impuls Paramotor/Mojo Power Glider
New Pilot's Package!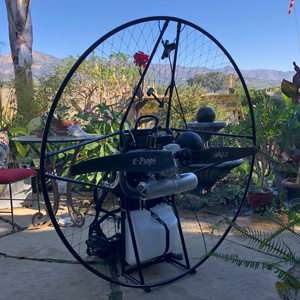 The Impuls Paramotor has now been paired with the Ozone Mojo Power Glider for a sporty, responsive flying package for progressing new Paramotor Pilots!
Getting into the sport of Paramotoring can be daunting – every Dealer out there is telling you that their gear is the only way to go.
The products in this package have stood the test of time, they are industry standards that will never lose their appeal or functionality.
We are now importing these products directly and can offer a great package price for this excellent combo plus essential accessories for new and experienced PPG Pilots.
Our Impuls Paramotor/Mojo PWR Glider Package includes:
Impuls Top 80 Paramotor/Mojo PWR PPG Package – $9150
Impuls Atom 80 Paramotor/Mojo PWR PPG Package – $9250
Impuls Moster Plus Paramotor/Mojo PWR PPG Package – $10,500
Impuls Moster Dual Paramotor/Mojo PWR PPG Package – $10,750

Mojo PWR
Great Add-Ons to this Package include these items:
Impuls Paramotors
The Impuls Paramotors are versatile and sturdy for both foot launched flight and PPG Trikes. Choose the model to suit your weight, preference and flying style.
The Engines:
Coupled with this new frame are some of the most trusted motors used for Paramotoring:
Ozone Mojo PWR Glider
The Ozone Mojo PWR is a super stable, entry level and beyond Power Glider that will give you the confidence to master the flying skills needed for powered paragliding.
This package is the complete kit, ready to fly! Our Impulse Paramotor/Mojo PWR PPG Package includes one Impulse Paramotor (includes harness), Ozone Mojo PWR glider, the Ozone Easy Bag Stuff Sack/Backpack and 2-cycle engine oil.
The Fine Print:
In order to qualify for the equipment package only, pilot must be a currently Certified and flying pilot or enrolled in a recognized school course with a Certified PPG Instructor. This special package excludes all other specials and discounts. Discounts cannot be combined.
Powered paragliding requires significant training. We will not sell a paraglider or motor to anyone until we have verified that they have arranged for, or have completed training with a recognized Instructor.